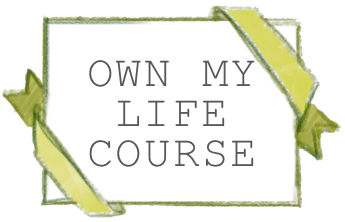 As part of our work at Space4Action, we run the Own My Life course with women who have been subjected to abuse. The course is an innovative, creative, educational 12-week course, with an optional 6-week follow-on course. It enables women to regain ownership of their lives after abuse. Using multi-media content to show messages within popular culture that reinforce or perpetuate sexism, rape culture, violence, disrespect in relationships and abusive behaviour, the course videos explain complex concepts in easy to understand terms. The Own My Story journal provides participants with all the ideas, key concepts and content from the course with space for reflection and notes. At the end of the course, if it is safe to do so, participants can take their journal away to continue their learning and reflection.
We are delighted that many professionals have spoken to us about referring women onto the course, and we want to ensure as many women as possible can get access to it. However, we also want to ensure that professionals know what the course entails and can effectively explain how the course may be useful to women they work with. Therefore, we offer a Taster Day for professionals to explain more about the course, enable professionals to experience how the course works and provide you with information about how you can refer women in. 
100% of those IoM professionals who attended our first IoM Taster Day found the day useful and would recommend it to others. Here is what they said:
"Very informative – delivery facilitators showed an obvious deep knowledge base."
"Due to the way the Course material is put across I feel it will encourage engagement."
"Really insightful – easy to follow and grasp."
"Thanks for a very relaxed and supportive approach to such a sensitive issue."
"Really enjoyed the Taster Day, good course and very in depth, I like the book." [Own My Story Journal]
"Great to know Own My Life is out there."
"An awesome day!
"Very informative and worth going to. I would encourage other professionals to attend – it will be well worth it and you will gain insight into the course and into DV."